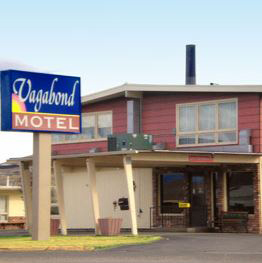 Everything You Need
Traveling can be a lot of fun, but it can also be a bit stressful. Fortunately, the right motel can make all the difference between a fun vacation and a traveling nightmare. Here in the greater Anaconda, Butte, Philipsburg, Deer Lodge, or Wise River, MT areas, that motel is Vagabond Lodge Motel LLC. We have been making our guests' travels a little easier since 1961, and are proud to offer excellent hotel rooms, amenities, and special features.
Clean, Comfortable Hotel Rooms
Whether you need to book hotel rooms with one queen bed, a room with two double beds, or one of our suites, you can always expect a clean, comfortable and fully furnished space at our motel, as well as the following amenities:
Free Wi-Fi
Free long-distance calls
Digital TV service
Microwave
Complimentary continental breakfast 7 days a week
Mini-fridges
Coffeemaker available
Attractions in Anaconda
As one of the only full-service, reliable motels in Anaconda, MT, we offer unique access to a wide range of attractions, from hot spring resorts to breweries. Here are just a few of the many nearby different locations and activities our guests tend to enjoy:
Fairmont Hot Springs Resort
Historic Washoe Theater
Historic Prison Museum & Montana Auto Museum in Deer, Lodge MT
Peterson's Horse Corral
Sapphire Mining Camp in Philipsburg, MT
Year-round fishing
Georgetown Lake
Smelter Stack State Park
Chamber Tourism Services / Visitor Center
Kennedy Commons
Candy Factory & Brewery in Philipsburg, MT
Skiing in the winter
Located next to Benny Goodman Park
Whatever you are looking for in a motel, chances are you will find it at Vagabond Lodge Motel LLC. If you have any questions or concerns, or would like to book a stay with us, please give our motel a call at 406-563-5251, or visit our Contact Us page for more information.
---
Our Cancellations Policy
If your reservation is canceled 72 hours (3 days) or more prior to the scheduled arrival date, the cost of your reservation is refundable. Cancellations less than 3 days prior to arrival result in forfeiture of complete reservation fee. Reservations leading to no-shows, incur a 100% cancellation penalty (all room nights charged including tax).